Say No to compromise,
and Yes to the security of
stable rides with VERMA CO TYRES.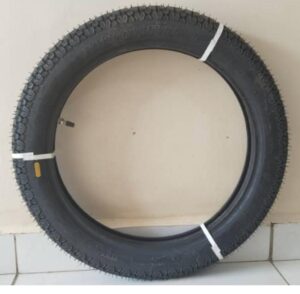 The VERMA CO Tyres is a sturdy tube-type and tubeless bike tyre designed to take care of the stability of your rides. This is an obvious choice for any biker who covers long distances regularly. With VERMA CO Tyre, you don't have to worry about your tyre giving out. The tyre comes with a long life and enhances your riding experience every time you hit the roads. The reliable motorcycle tyre adds stability to your bike, along with superior comfort during long distances. Its impeccable wet and dry grip is unmatched. The ultimate comfortable ride comes with the courtesy of its continuous centre rib.
Specification of Verma Co Tyre with Tube
3.00-17 6PR
HI-GRIP PLUS
TYRE WITH TUBE
Excellent Ride Quality
Courtesy of continuous centre rib which ensures easy rolling

Wet & Dry Grip
Featured cuts on intermediate ribs improve the tyre's wet and dry grip

Extra Comfortable
During long distance rides

Stable Ride
Add stability to your bike on wet and dry surface