Designed for better performance and experiences, the CT 125 is styled classic, with the modern improvements of a third leg-rest, wide and long seat and SNS suspension to pack comfort and utility on daily trips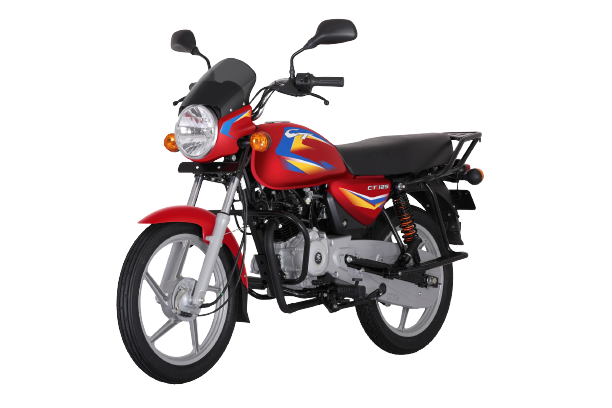 LESS FUEL. MORE DISTANCE.
Equipped with the 5-speed gear box, the 1st in its segment for better engine utilization and improved mileage.
This bike is designed to go the distance while consuming minimal fuel, making it perfect for riders who value efficiency.
Technology and Specifications
The Complete Specifications
Type: 4 Stroke, Natural Air Cooled, SI Engine
Max Power: 10 PS @7500 rpm
Max Torque: 10.5 Nm @5500 rpm
Displacement: 124.45 cc
Starting:Kick & Electric Start

Wheel Base: 1235 mm
Length x Width x Height: 2001mm x 770mm x 1069mm
Suspension Front: 125mm Fork travel, Telescopic
Kerb Weight: 115 Kg
Fuel Tank (Reserve / Usable): 10.5 L (2.2 L reserve)
Suspension Rear: 94 mm Rear Wheel travel, SNS

Break Size Front: 130mm
Brake Size Rear: 130mm
Tyre Front: 2.75 - 17", 41P
Tyre Rear: 3.00 - 17", 50P
Brake Type Front: Mechanically Expanding Shoes, Drum
Brake Type Rear: Mechanically Expanding Shoes, Drum

System: 12V (AC/DC)
Battery: 12V 3Ah VRLA
Head Lamps: 12V 35/35W

Still have queries for features?
Get your queries solved with our experts on call.