BM 100 cc has won the hearts of Africa through its Reliability, Ruggedness and Reparability. It has a reliable 4-stroke engine with ExhausTEC system which leads to lesser wear and tear and delivers consistent superb performance. Its strong chassis, metal fenders and Spring-in-Spring Suspension ensure a smooth ride, easier maneuverability and better grip in all road conditions.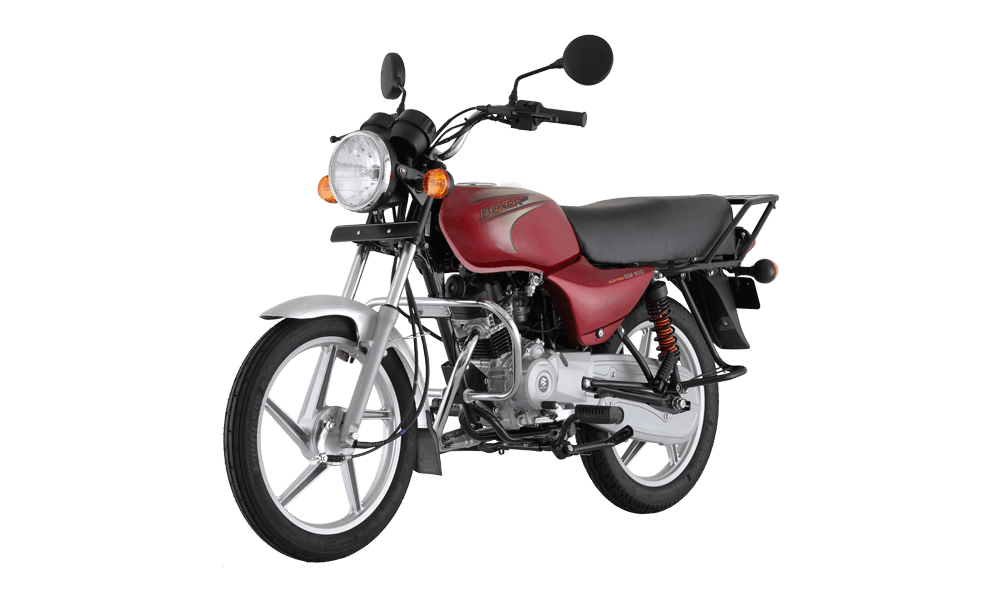 Reliability day-after-day, with the muscle to conquer challenges and performance to cut across boundaries.
Reliable, Rugged and Reparable
Created to ride on the most punishable roads in the world, Boxer 100 is an accessible commuter bike for intra city travel as well as longer journeys. A bike that is as strong as it is fuel efficient. As comfortable as it is reliable. No wonder, it is one of the most preferred bikes across the globe
Technology & Specifications
The Complete Specifications
Type: 4 stroke, Natural air cooled
Max Power: 8.2 Ps (6.03Kw) @ 7500 (Ps @ RPM)
Max Torque: 8.05 @ 4500 (Nm @ RPM)
Displacement: 99.27 cc
Starting:Kick Start

Wheel Base: 1235mm
Length x Width x Height: 1970 mm x 770 mm x 1065 mm
Suspension Front: Ceriani type, Telescopic,
Stroke = 110mm
Kerb Weight: 109 Kgs
Fuel Tank (Reserve / Usable): 9.3 L (1.2L Usable reserve)
Suspension Rear: Trailing arm with coaxial shock absorbers and coil springs
Break Size Front: 110 mm
Brake Size Rear: 130 mm
Tyre Front: 2.75 X 17"
Tyre Rear: 3 X 17"
Brake Type Front: Mechanically Expanding Shoes, Drum Brake Type Rear: Mechanically Expanding Shoes, Drum
System: 12 Volts AC + DC
Battery: 12V 2.5Ah
Head Lamps: 35/35W

Still have queries for features?
Get your queries solved with our experts on call.