Built for that Extra Power
A bike that stays strong and takes all the load with ease. Boxer 150 is a great combination of power and fuel efficiency that makes it an ideal bike for city travel as well as for longer rides and across terrains. Its rugged and solid styling are meant for those commuters who seek better bike performance from 150 cc bikes. A motorcycle that delivers power on all load and speed conditions. A bike meant to outlast the toughest of roads.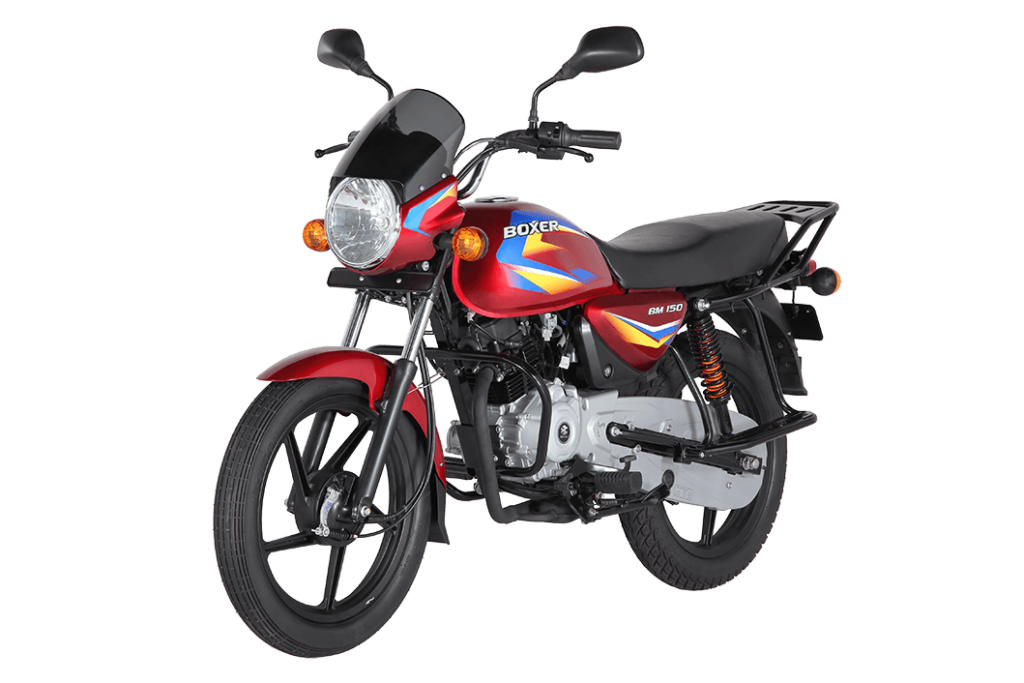 Built Stronger to Last Longer
Ride with the assurance of strength and durability which takes you anywhere, over any riding conditions.
Rugged Everyday Performance
Built with a classic touch, the front sports a rounded headlamp, strong front and 17" alloy wheels, with a wider-longer seat and grab rail on the rear.
Technology & Specifications
The Complete Specifications
Type: 4 Stroke, Natural air cooled, SI engine
Max Power: 12PS @7500 rpm
Max Torque: 12.55Nm @ 5000 rpm
Displacement: 144.8 cc
Starting:Kick Start and Electric Start

Wheel Base: 1285 mm
Length x Width x Height: 2016 mm x 740 mm x 1055 mm
Suspension Front: 125mm Fork travel, Telescopic
Kerb Weight: 125 Kg
Fuel Tank (Reserve / Usable): 11 L (2.5 L Reserve)
Suspension Rear: 100mm rear wheel travel, SNS

Break Size Front: 130mm
Brake Size Rear: 130mm
Tyre Front: 3.00 x 17, 45P
Tyre Rear: 100/90 x 17, 55P
Brake Type Front: Mechanically Expanding Shoes, Drum
Brake Type Rear: Mechanically Expanding Shoes, Drum

System: 12 Volts DC
Battery: 12V 4Ah VRLA
Head Lamps: 12V - 35/35W - HS1

Still have queries for features?
Get your queries solved with our experts on call.